Ed'23 Media Reviews
British Theatre Guide (24/08/23) British Theatre Guide (Catherine Lamm)
Independent Catholic News (24/08/23)

Ed'23 Audience Reviews
Emma Blount - 24/08/23
Absolutely brilliant! The gospels dramatised, playing all the parts, including the devil, with mesmerising energy, passion and pathos. It felt like I was present in every one of the bible scenes. What an incredible actor.
James Gordon - 23/08/23
A performance of visceral intensity, holding attention throughout the 90-minute running time. The protagonist is Satan but the solo actor plays many other parts as well, all clearly differentiated. The script held my attention too but I confess to being slightly disappointed. This Satan accepts the gospel version of events too readily and submits too easily, making much of the text a straight re-hash of familiar stories. He's no Mephistopheles, nor even an Iago. The story ends, like Bach's Passions (bits of which are heard in the background), just when its climax, the harrowing of Hell, is beginning. This is not the 'Devil's Passion', but Christ's Passion as told by the Devil.
Adam - 20/08/23
Tremendous premise, brilliantly executed in an intense performance. You know the story: this is how The Devil saw it!
Lucie- 19/08/23
I watched The Devil's Passion with awe. A beautifully nuanced performance. Justin Butcher plays every moment with utter commitment and intensity. A masterclass. This topped off with a fantastic set, and stand out video and sound design. A must see show!
Brian - 19/08/23
This was an incredible performance. I felt like I was watching a master of his craft at work.
Richard - 16/08/23
I was trying to decide which was better - the performance or the writing. I'm going to say I think both were flawless. I've seen a lot of plays involving biblical characters and thought myself immune to the genre, but this knocked my socks off. In fact I liked it so much I went back to see it a second time.
David - 16/08/23
A powerful performance that deserves a wider audience. Satan plans his "counter terrorist" operation against the "rabble-rouser" Jesus. Whilst I felt more could have been done with the concept to challenge the audience, the performance of the actor was fantastic.
Previous Reviews:
'One of the most remarkable evenings I have spent in the theatre.' David Suchet
'Vivid, comic and lyrical twist on familiar events' (The Observer)
'Radical and provocative: a devilishly clever retelling of the Easter Story.' (Mark Lawson, The Tablet)
'A riveting, witty performance with fine attention to detail. A vivid piece of storytelling, a visceral version of the Christ story, a bravura performance.' (Howard Loxton - British Theatre Guide)
'Simply outstanding, a very artful piece of theatre, deeply humane, utterly original. A terrific performance, startlingly original … it crackles with great lines.' (Vera Mikusch - Plays to See)
'A magnificent and profound religious drama, worthy of Dante' (Dr Phillp Crispin - Independent Catholic News)
'Intense performer, fantastic playwright … authoritative, captivating and riveting.' Celeste Villani - Adelaide Advertiser
'Topical and insidiously clever, lyrical, animated, compelling and just downright fun.' Great Scott Media
'We may think we've heard the Easter story from every angle imaginable, but… Justin Butcher has added another to the list – a new, engaging play depicting the Passion from the Devil's point of view.' Christian Today
'Eloquent, compelling script, forcefully charismatic portrayal.' John Dexter - Adelaide Review
'It doesn't get better than this. Sensational.' Barry Lenny - Broadway World 'A real treat…highly original…genuinely thrilling… Butcher's skills as a performer take his literate script into the realms of compelling drama…mesmerising' Blanche Marvin reviews
'Sharp, thought-provoking and often funny, and Justin's performance is spellbinding' Inspire

JUSTIN BUTCHER - writer & performer
Justin read Classics Greats at Oxford, trained subsequently at Drama Studio London, and has worked all over the world as director, writer, actor and musician in a vast range of roles and productions in theatre, television, radio and film.
His epic play
Scaramouche Jones
, starring the late Pete Postlethwaite, has been touring the globe since its premiere at the Dublin Theatre Festival 2001, has won and been nominated for several awards, translated and produced in five languages. In 2003 his anti-war satire
The Madness Of George Dubya
, hailed by The Guardian as the catalyst for the re-politicisation of British theatre, received unprecedented global media coverage, played to packed houses for five months in London's West End, and along with its sequel
A Weapons Inspector Calls
, earned Justin the
Fringe Report Best Political Dramatist Award
. The third in the trilogy,
Guantanamo Baywatch
, was produced in the West End in the run-up to the November '04 US Presidential election.
His comic update of the Phaedra/Hippolytus legend,
Breaking Strain
, was a major hit at the 2003 Edinburgh Fringe, hailed by The Scotsman it as a 'modern classic'. Other recent directing credits include:
The Red Room
(Union Theatre, London);
The Winter's Tale
(Creation Theatre, Oxford); the
Trade Justice Vigil
, a huge multi-media event at Westminster Abbey for the 2005 Make Poverty History campaign, starring Vanessa Redgrave, Pete Postlethwaite, Damian Lewis, Ronan Keating, Beverley Knight and Jools Holland; His own re-working of the Mystery Plays,
The Millennium Man
(Theatre Royal, Bath & UK tour) and his own commedia-style passion play,
King Of Fools
(Westminster Abbey and five UK tours); Peter Shaffer's
Black Comedy
(Colorado Festival of World Theatre, USA);
Child Of Biafra
(Contact Theatre, Manchester). He has also written five plays for BBC Radio 4:
Chukwudebelu - Preserved Of God
;
The Man On The Pillar
;
The Seven White Masks Of Scaramouche Jones (
starring Warren Mitchell),
The Patience Of Mr Job
and
Escape From Gaza
.
In August '08, he gave a highly-acclaimed run of
Scaramouche Jones
, directed and produced by Guy Masterson/Theatre Tours International, at the Assembly Rooms at the Edinburgh Fringe. This production toured the UK throughout 2009 and played the Adelaide Fringe Festival, Australia, 2010 and 2012, nominated for the Bank SA People's Choice Award.
His play,
Go To Gaza, Drink The Sea
, co-written and directed with Ahmed Masoud in response to the invasion of Gaza in January 2009, generated critical acclaim and controversy and transferred to the Assembly Rooms at the 2009 Edinburgh Fringe. His adaptation of Stanislav Stratiev's Cold War satire
The Roman Bath
(Arcola Theatre, Apr-May '10) was praised by Michael Billington in The Guardian and Michael Coveney in The Independent for introducing UK audiences to the work of a major Eastern European satirical writer. In Dec '09 - Jan '10, he performed in and directed the music for Phil Porter's
Cinderella
at the Unicorn Theatre for Children. His first book,
Jimmy - A Legacy Of Peace
, the biography of Jimmy Mizen, published in May 2013 was described by The Guardian's Erwin James as 'One of the most moving books I have ever read.' His latest stage plays are
Childhood In Berlin
, a dramatisation of German-Jewish memoirs of pre-war Berlin, and
The Last Great Quest
, commissioned by the Wales Millennium Centre, Cardiff, to mark the centenary of Captain Scott's Antarctic Expedition, scheduled to premiere in 2015, followed by UK and international touring.
Most recently, he has produced and curated the hugely successful
Bethlehem Unwrapped
festival at St James's Church, Piccadilly, over Christmas 2013, working with Nigel Kennedy, the Tallis Scholars, Yotam Ottolenghi and Sami Tamimi, Jeremy Hardy and Mark Steel, and a glittering programme of Palestinian, Israeli and British artists in a contemporary celebration of the life and culture of Bethlehem, to festival audiences of nearly 30,000 people and global coverage on television, radio, internet and social media.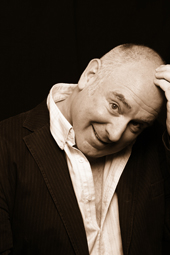 GUY MASTERSON - Director (click for additional biographical material)
After obtaining a Joint Honours degree in Biochemistry and Chemistry from Cardiff University in 1982, Guy studied drama at UCLA's School of Drama and started as an actor in 1985 in Hollywood. He returned to the UK in 1989 to study further at LAMDA. He is an multi-award winning actor, playwright, director, producer, international presente, dramaturge and renowned acting and executive coach.
Following a conventional start in plays, film and television, Guy began solo performing in 1991 with The Boy's Own Story and thence Under Milk Wood in 1994 and Animal Farm in 1995. He first produced/directed in 1993 with Playing Burton participated at the Edinburgh Fringe for the first time in 1994. The following 26 seasons saw his association with many of Edinburgh's most celebrated hits, and his company became EdFringe's most awarded independent theatre producer - garnering 8 Scotsman Fringe Firsts, 3 Herald Angels, 25 Stage Award nominations (including 4 wins) together with numerous lesser awards. Guy also directed two of Edinburgh's biggest grossing dramatic hits: 12 Angry Men - famously starring a cast of well known comedians including Bill Bailey, Dave Johns and Phil Nichol, which then toured Australia and New Zealand - and The Odd Couple (2005) starring Bill Baile and Alan Davies. He also originated One Flew Over The Cuckoo's Nest (2004) starring Christian Slater and Mackenzie Crook which transferred to teh Gielgud Theatre in London's West End and later, The Garrick. His 2009 production of Morecambe transferred to The Duchess Theatre in the West End and won the Laurence Olivier Award for Best Entertainment (plus another nomination for the actor playing Eric).
At Edinburgh 2014 his epic 30 actor adaptation of Animal Farm produced by Tumanishvili Film Actors Theatre of Tbilisi, Georgia, won the Stage Award for Best Ensemble. His production of The Marilyn Conspiracy was due to transfer to London in June 2020 but was postponed by Covid19. Most notably, his 2019 hit, The Shark Is Broken finally opened at the Ambassadors Theatre in the West End in October 2022 and was Olivier Award nominated for Best New Comedy. It since played seven weeks in Toronto, and opened at the John Golden Theatre on Broadway in August 2023 for a sxteen week run.
Most recently, he directed Picasso: Le Monstre Sacré at the Playground Theatre in London, and co-directed the award winning The Marvellous Elephant Man - The Musical at the 2023 Adelaide Fringe Festival and Melboburne International Comedy Festival.
As a performer, he won The Stage Best Actor Award in 2001 for Fern Hill & Other Dylan Thomas and was aslo nominated in 1998 for A Soldier's Song, in 2003 for Best Solo Performance for Under Milk Wood, and again for Shylock in 2011. In 2003, he also received Edinburgh's most prestigious accolade, The Jack Tinker Spirit of the Fringe Award. His most recent solo work, A Christmas Carol, has sold nearly every ticket over 5 festive seasons since it opened in 2017.
His theatrical commitments have largely kept him out of mainstream film and television, however, he made the obligatory appearance on Casualty (Christmas Special 2004) and has been the Franziskaner Monk - the face of the premium German weissbier - since 2007! He also writes plays, screenplays and poetry, is an executive performanc and confidence coach. His passion is to bring great new ideas to life and fresh talent to the stage.
He is married to Brigitta and father to Indigo and Tallulah...




JACK ARNOLD - SOUND AND ORIGINAL MUSIC
Jack Arnold is BIFA-winning and RTS-nominated composer and producer working in feature film, television drama and documentary on a wide range of award-winning work.
Recent work includes the critically acclaimed feature film, and BAFTA Scotland 2019's Best Picture Wild Rose directed by Tom Harper starring Jessie Buckley and Julie Walters, for which he won the 2019 BIFA for Best Music, and the featured song Glasgow (No Place Like Home), was shortlisted for Best Song at the 2020 Academy Awards, and won several other major industry awards; The Level, a thriller series for ITV1; and comedy drama series Loaded for C4/AMC. The BAFTA nominated Holy Flying Circus comedy by Tony Roche and directed by Owen Harris about "The Life of Brian", for which he received an RTS Award nomination for Best Score in 2012.
His collaboration with Tom Harper is a long one, beginning with several short films, and then Tom's debut feature, critically acclaimed The Scouting Book for Boys in 2009, written by Jack Thorne; 2014's War Book followed that, also penned by Thorne, a track composed for 2015's The Woman In Black: Angel of Death; additional music for the BBC's 2016 adaptation of War and Peace; The Aeronauts starring Eddie Redmayne & Felicity Jones.
Other film work includes Albatross, starring Felicity Jones and Jessica Brown Findlay; legal drama series Striking Out for RTÉ; and the Beckoning for C4/Discovery.
Stage includes The Devil's Passion directed by Guy Masterson, and Walking To Jerusalem for Justin Butcher.
Short: Film & TV: Wild Rose, Loaded, Holy Flying Circus, The Scouting Book For Boys, War Book, War and Peach, The Aeronauts, Albatross, Striking Out, The Beckoning. Theatre includes Body 115 (Jan Noble) and The Devil's Passion and 9 Circles with Guy Masterson.